El aprendizaje móvil (m-learning) en la universidad en tiempos de la COVID-19: Una herramienta formativa en la Educación Superior
Edward Faustino Loayza Maturrano

Universidad Nacional Agraria La Molina
Palabras clave:
Dispositivos móviles, m-learning, estudiantes universitarios, educación superior, Covid-19
Resumen
El objetivo de la investigación fue analizar el uso del aprendizaje móvil y las tecnologías basadas en él como una herramienta formativa del proceso educativo universitario; y plantear usos y aplicaciones del m-learning. La metodología del estudio realizó análisis estadísticos descriptivos e inferenciales de la aplicación de una encuesta aplicada a 74 estudiantes universitarios de cuatro universidades (públicas y privadas) sobre el uso de dispositivos móviles. Los resultados evidencian que los estudiantes universitarios emplean los dispositivos móviles para actividades de ocio y recreación antes que para el aprendizaje y el conocimiento. Se concluye que la mayoría relativa de los encuestados no están acostumbrados a usar dispositivos móviles a diario como herramienta de aprendizaje ni para la búsqueda de información.
Descargas
La descarga de datos todavía no está disponible.
Citas
Adanır, G., & Muhametjanova, G. (2021). University students' acceptance of mobile learning: A comparative study in Turkey and Kyrgyzstan. Education and Information Technologies, 26, 6163–6181. https://doi.org/10.1007/s10639-021-10620-1

Althunibat, A., Almaiah, M., & Altarawneh, F. (2021). Examining the Factors Influencing the Mobile Learning Applications Usage in Higher Education during the COVID-19 Pandemic. Electronics, 10(21), 2676. https://doi.org/10.3390/electronics10212676

Antee, A. (2021). Student perceptions and mobile technology adoption: implications for lower-income students shifting to digital. Educational Technology Research and Development, 69(1), 191-194. https://doi.org/10.1007/s11423-020-09855-5

Chachi, M. (2021). El uso de smartphones y el aprendizaje en los estudiantes de la Universidad Tecnológica del Perú-Campus Lima Sur 2019. (Tesis doctoral). Universidad Nacional de Educación Enrique Guzmán y Valle. http://repositorio.une.edu.pe/handle/UNE/5412

Ganesan, M., Singh, V., & Biswas, S. (2021). Mobile learning as the future of e-learning. E-Learning Methodologies: Fundamentals, Technologies and Applications, 133-146.

Loayza, E. (2020). La investigación cualitativa en Ciencias Humanas y Educación. Criterios para elaborar artículos científicos. Educare et Comunicare, 8(2), 56-66. https://doi.org/10.35383/educare.v8i2.536

Loayza-Maturrano, E. (2021). Enfoques modernos para determinar el nuevo rol del docente. Sciéndo, 24(3), 177-183. https://doi.org/10.17268/sciendo.2021.023

López-Moranchel, I., Franco, E., Urosa, B., Maurelos-Castell, P., Martín-Íñigo, E., & Montes, V. (2021). University Students' Experiences of the Use of M-learning as a Training Resource for the Acquisition of Biomechanical Knowledge. Education Sciences, 11(9), 479. https://doi.org/10.3390/educsci11090479

Magsayo, R. (2021). Intention to continue using mobile learning: the effects of perceived values and role of locus of control. The International Journal of Information and Learning Technology, 38(5), 493 – 517. https://doi.org/10.1108/IJILT-07-2021-0105

Matzavela, V., & Alepis, E. (2021). M-learning in the COVID-19 era: physical vs digital class. Education and Information Technologies, 7183–7203. https://doi.org/10.1007/s10639-021-10572-6

Mella-Norambuena J, Cobo-Rendon R, Lobos K, Sáez-Delgado F, Maldonado-Trapp A. (2021). Smartphone Use among Undergraduate STEM Students during COVID-19: An Opportunity for Higher Education? Education Sciences, 11(8):417. https://doi.org/10.3390/educsci11080417

Milheim, K., Fraenza, C., & Palermo-Kielb, K. (2021). Supporting student-initiated mobile device use in online learning. Online Learning Journal, 25(3), 267-288. https://doi.org/10.24059/olj.v25i3.2438

Qashou, A. (2021). Influencing factors in M-learning adoption in higher education. Education and information technologies, 26(2), 1755-1785. https://doi.org/10.1007/s10639-020-10323-z

Romero-Rodríguez, J, Aznar, I., Hinojo-Lucena, F., & Gómez-García, G. (2021a). Uso de los dispositivos móviles en educación superior: relación con el rendimiento académico y la autorregulación del aprendizaje. Revista complutense de educación, 32(3), 327-335. https://doi.org/10.5209/rced.70180

Romero-Rodríguez, J., Aznar-Díaz, I., Trujillo-Torres, J., & Moreno, A. (2021b). Best practices in the use of mobile learning by university teachers of Didactics Language-Literature. Revista Conhecimento Online, 3, 6-25. https://doi.org/10.25112/rco.v3.2772

Sophea, D., Sungsuwan, T., & Viriyasuebphongp, P. (2022). Factors Influencing Students' Behavioral Intention on Using Mobile Learning (M-Learning) in Tourism and Hospitality Major in Phnom Penh, Cambodia. Current applied science and technology, 1-22. https://li01.tci-thaijo.org/index.php/cast/article/view/251759

Sophonhiranrak, S. (2021). Features, barriers, and influencing factors of mobile learning in higher education: A systematic review. Heliyon, 7(4), e06696. https://doi.org/10.1016/j.heliyon.2021.e06696

Tejada, J., y Barrutia, I. (2021). Tecnología móvil en el aprendizaje universitario. Sophia, 17(1), e1016-e1016. https://doi.org/10.18634/sophiaj.17v.1i.1016

Todoranova, L., & Penchev, B. (2021). Perspectives for Mobile Learning in Higher Education in Bulgaria. In Tagarev T., Atanassov K.T., Kharchenko V., Kacprzyk J. (eds) Digital Transformation, Cyber Security and Resilience of Modern Societies, 84, 441 - 445. Studies in Big Data, Vol. 84. Springer, Cham. https://doi.org/10.1007/978-3-030-65722-2_28

UNESCO (2013). UNESCO Policy Guidelines for Mobile Learning. Printed by Unesco. https://unesdoc.unesco.org/ark:/48223/pf0000219641Valverde-Macias, A., & Llerena-Izquierdo, J. (2022). Google Classroom as a Mobile and Blended Learning Strategy for Salesian Groups Training. Communication, Smart Technologies and Innovation for Society, 97-106. Springer, Singapore. https://doi.org/10.1007/978-981-16-4126-8_10

Yun-Peng, Y., Wei-Han, G., Keng-Boon, O., & Wei-Lee, L. (2021). Can COVID-19 pandemic influence experience response in mobile learning? Telematics and Informatics, 64, 101676. https://doi.org/10.1016/j.tele.2021.101676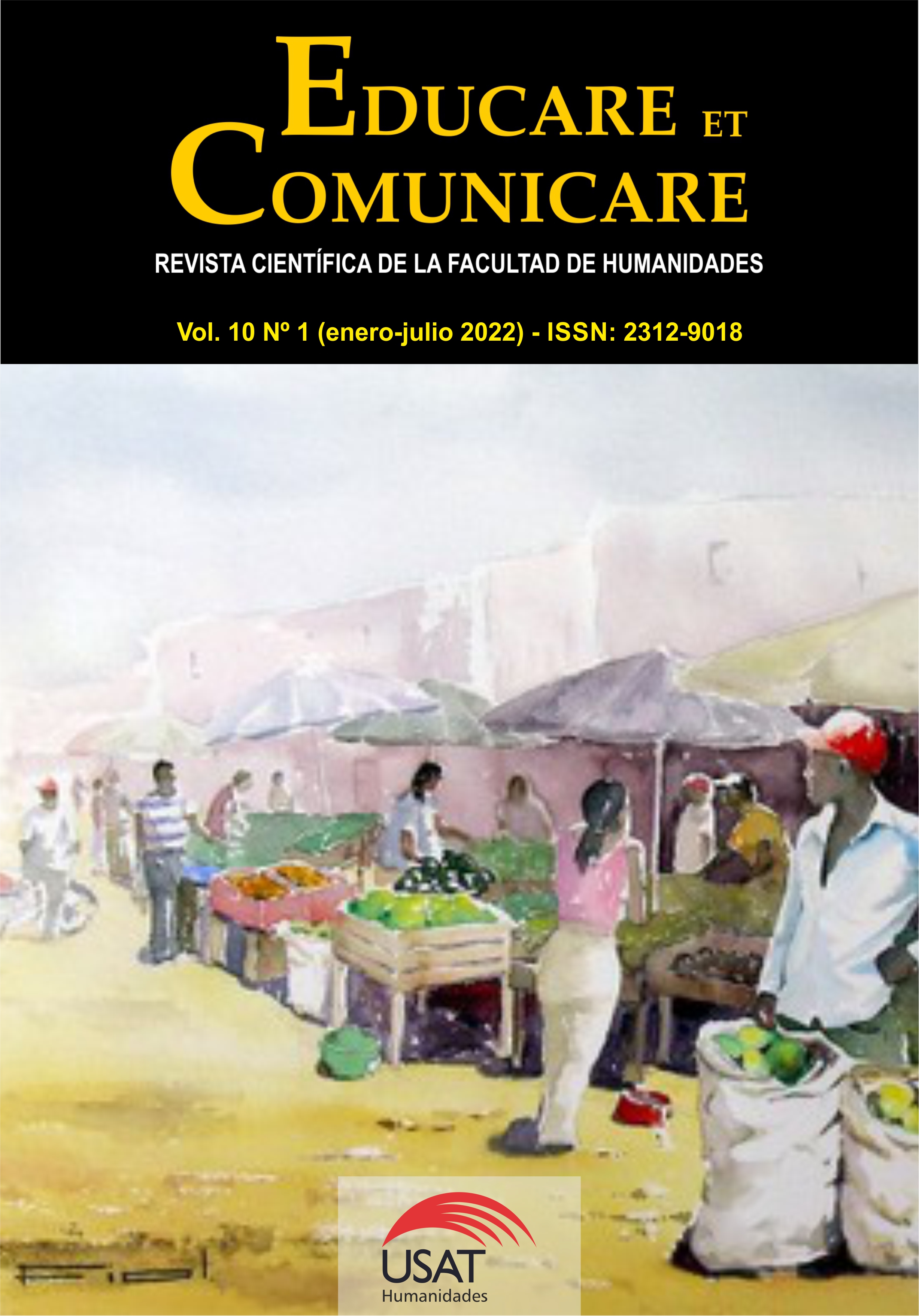 Cómo citar
Loayza Maturrano, E. F. (2022). El aprendizaje móvil (m-learning) en la universidad en tiempos de la COVID-19: Una herramienta formativa en la Educación Superior. EDUCARE ET COMUNICARE Revista De investigación De La Facultad De Humanidades, 10(1), 5-12. https://doi.org/10.35383/educare.v10i1.743

Los autores conservan los derechos de autor.
Esta obra está bajo una licencia internacional Creative Commons Attribution 4.0.
Los artículos publicados por la revista científica "Educare Et Comunicare" de la Facultad de Humanidades de la Universidad Católica Santo Toribio de Mogrovejo, Chiclayo, Perú están sujetos a una licencia internacional Creative Commons Attribution CC BY 4.0